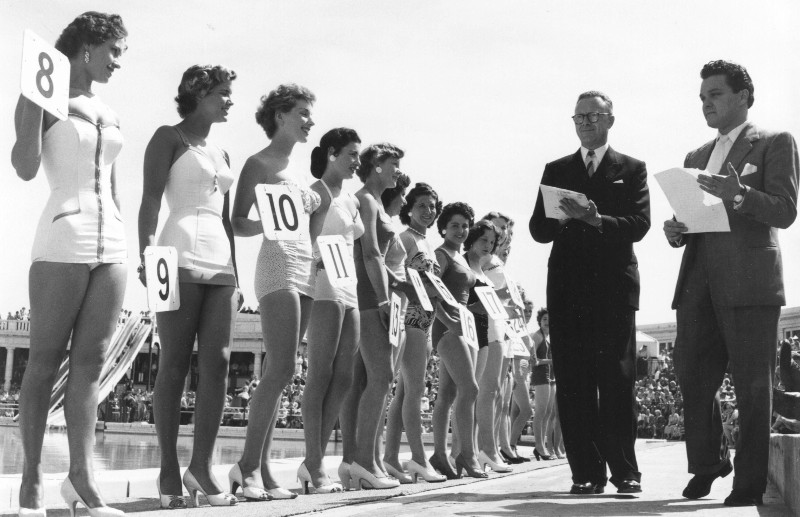 I recall driving through Western Canada and entering a very small town. Just on the outskirts of town was a billboard that said, "Home of the 1964 Calf Raising Queen", (or something like that), and I thought who would enter THAT beauty contest?
We've all heard of the Miss America and Miss Universe pageant. Below you will find examples of some very strange beauty contests and the winners from various years through the 50s and 60s. Enjoy!
#1. Julie Meade was crowned "Mink Queen" when she won this 1960 pageant sponsored by the West Side Fur Company
#2. Posing for her photo in a bathtub full of blueberries in the Hotel Roosevelt is 1955 pageant winner the "Blueberry Queen."
#3. Cindy Carol won the title of 'Queen of the Anti-Triskaidekaphobia,' which stands for "the fear of the number 13"
#4. 1964 winner posing with a toucan and a lamb. 21-year-old Sunny Austin won the "Queen of the Pet Festival' pageant.
#5. In 1957 Joy Harman was awarded the title of "New York City Donut Queen". She was 19 in this photo.
Most of these pageants are sponsored by businesses that use the pageants to promote their product.
#6. The 1952 "Sweater Queen" was Jeanne Davis as judged by The Wool Bureau and National Knitted Outerwear Foundation.
#7. She won the 1954 title of "Miss Magic Marker"! This was long before Eminem meant something else.
#8. This is the 1967 winner of the" Outdoor Health Queen", Darlene Larsen. (this pose doesn't look healthy)
#9. The 22-year-old "Queen of the Village" (Greenwich Village). This is Eva Sloan.
#10. The 1955 "Sausage Queen" crowned during National Hot Dog Week, sponsored by the Zion Meat Company.
#11. This is "Miss National Catfish Queen" in 1954. Gail Hooper is holding a 56lb fish and is 18 years old in this photo.
 And just when you thought it couldn't get any weirder……
#12. The three finalist for the 1956 'Miss Correct Posture' crown.
#13. The 1957 winner of the "Miss Atomic Bomb" crown.
#14. 1965 pageant winner of the "May Wine Queen" was Paula Wayne.
#15. Crowned 'Queen of the Circus' in 1959 at Palisades Park is the lovely Jacqueline Petite.
#16. In a pageant designed to promote a better national sense of humor, Kathleen Townsend was crowned 'Laugh Queen' in 1961. The contest was held on April Fools Day
Seriously, you can't make this stuff up! We hope you enjoyed this gallery of pageant winners. We are searching for more crazy pageants and hope to provide an update soon.