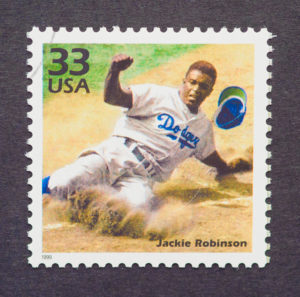 Since basketball had been invented by James Naismith in 1891, it had quickly become always an American pastime. This makes it a given for many Americans to excel in the sport so much and even dedicate their time to pursue a professional basketball career in their adult lives.
One of most remarkable basketball journeys to date has to be that of Jackie Robinson's. Born from poor family back in 1919, he and his family was left by his father when he was only six months old. He is born of African-American descent and as a child, he had always excelled in sports. But his rise to sports stardom didn't really happen until his days in the University of California in Los Angeles, where he became the first student that won varsity letters in four sports. Despite his talents and sportsmanship, he wasn't able to complete his education due to financial difficulties. He relocated all the way to Hawaii and played football for the Honolulu Bears, until the United States entered WWII and Jackie Robinson had to serve as a second lieutenant in the army. During a boot camp at Fort Hood, he was arrested and brought to court for refusing to give up his seat and move to the back of a segregated bus. Yet, due to the support of his friends, his upstanding behaviour, various black newspapers and the NAACP, he was acquitted of the charges and received an honorable discharge.
After his stint with the US Army, Jackie Robinson decided to play baseball professionally. Racism was still very much prevalent during those days, which means that there were still no leagues with both African- Americans and whites playing together to complete. This all changed in 1946 when Jackie Robinson was approached by the president of Brooklyn Dodgers to join their team, making him the first African-American to join an all-white team. Yet, just because he was handpicked doesn't mean he had it easy. He actually had to go through a lot of racial abuse, especially at away games, where he would often get called names, pranked and humiliated. His teammates didn't even speak to him and pitchers of opposing teams would often throw the ball at his head. Yet, despite all this, he never once fought back and he handled everything with grace and his dignity intact. On the court, he was still able to deliver a good game consistently. In fact, he even won a Rookie of the Year Award and a Most Valuable Player Award during his career.
Eventually, Jackie Robinson was able to win over the hearts not only of his team members but also of the world. His drive and will to continue moving forward has provided inspiration for everyone to remember that fighting doesn't have to be done with words and fists. Keeping your head in the game and defending yourself even without making use of vile words can go a long way. In the end, Jackie Robinson succeeded in putting an end to prejudice and racial strife in the world of baseball and gave other African-American players the opportunity to play in the major leagues.